What does calcite milling do? Recommended mill equipment for grinding powder
Which manufacturer's ore mill can be used to grind calcite ore powder? What does calcite milling do? What equipment can be used for grinding powder? The mill manufacturer Clirik has always been concerned about the non-metallic mineral industry milling market. For calcite mills, please feel free to come to the manufacturers of
ultra-fine grinding mills
, Raymond mills, vertical mills and other equipment to inspect and understand the selection plan and product quotation. Details.
What does calcite milling do?
Calcite is a non-metallic mineral resource stored in limestone mountains. It is a non-metallic mineral in tertiary and quaternary limestone and metamorphic minerals. It is a carbonate mineral. Its chemical composition is CaCO3, trigonal crystal system, and glassy luster. Completely transparent to translucent, usually white or colorless, it is a non-metallic ore with high application value.
With professional grinding production line equipment, calcite is ultra-finely ground into calcium carbonate powder, which has a wide range of uses and is generally used as industrial raw materials such as chemicals and cement. Calcite is used as a flux in the metallurgical industry, and used to produce cement and lime in the construction industry. Used in plastics, paper making, toothpaste. Used as filling additives in food. Calcite is added in the glass production, the resulting glass will become translucent, especially suitable for making glass lampshades.

In-depth introduction to the

ultra-fine grinding mill

for fine powder
What kind of fine powder mill equipment is used to grind fine powder? Regardless of grinding coarse powder or fine powder, Clirik has devoted himself to the development of professional ore mills to meet the production of ore powders of different fineness and capacity. Among them, the Raymond mill equipment is a renewal of the traditional mill, which can grind 80-400 mesh calcite ore powder. If you need to grind fine powder, it is recommended to use special ultra-fine mill equipment to assist in delivery.
What are the advantages and characteristics of this ultrafine mill equipment? What kind of mill is it? Clirik's new type of ultra-fine pulverizer has comprehensive mechanical pulverization properties such as rolling, milling, and impact. The powder that can be pulverized is adjusted before 325-2500 mesh, with good powder fineness, excellent particle size, and powder output. High efficiency and larger annual output can help the calcite ore fine powder project to create value and greater production capacity. Let's appreciate the introduction of the technical advantages and features of this equipment.
Clirik ore deep processing grinding equipment-HGM series

ultra-fine grinding mill
[Production capacity]: 1-22t/h
[Fineness of Finished Product]: 5-45μm
[Product Features]: It integrates rolling, milling, impact and other comprehensive crushing performance, scientific and reasonable design, innovative structure, and is very popular in the field of ultrafine powder milling.
[Focus Field]: Focus on the fine and deep processing grinding and processing of non-metallic minerals with Mohs hardness below 7 and humidity below 6%, such as gypsum, calcite, barite, fluorite, marble, etc. The product has a number of patented technologies , Advanced performance.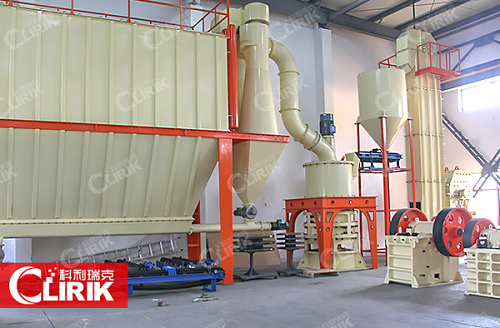 What does calcite milling do? Is the market value high?
After the above description, I believe that customers and friends have a more thorough understanding of the market value of calcite powder. For the fine powder project, the special ultra-fine mill equipment recommended for you will do more with less, which can help grind 325-2500 mesh powder. You are welcome to visit the factory and learn more about the equipment. Dial the hotline to get the selection plan and product quotation.
If you want to know the
ultra-fine grinding mill price
or have any questions about ultra-fine grinding mill, please do not hesitate to contact us.
Phone: 008613917147829/0086-21-20236178
E-mail: info@clirik.com
Address: No.19 Fuqing Rd, Pudong New Area, Shanghai201201,China.