Introduction to the ultra-fine grinding process of calcium carbonate grinding mill manufacturers
What equipment can grind calcium carbonate powder? Which manufacturer is a calcium carbonate grinding mill manufacturer with rich experience and superb technology? If you grind calcium carbonate fine powder, what equipment can be used for grinding? Clirik is a Shanghai pulverizer manufacturer with many years of R&D and manufacturing experience and superb technology. For fine powder, you can choose Clirik's
micro grinding mill
to assist in production. The equipment process is more scientific and the grinding efficiency is higher.
Learn about professional

calcium carbonate grinding mill

manufacturers
For grinding calcium carbonate powder, which manufacturer is a more professional manufacturer of
calcium carbonate grinding mills
? The mill manufacturer Clirik is a professional equipment manufacturer loved by new and old customers and friends. For the grinding needs of calcium carbonate projects, Clirik can provide many grinding equipment such as Raymond mills, ultra-fine mills, and vertical mills. Achieve efficient delivery.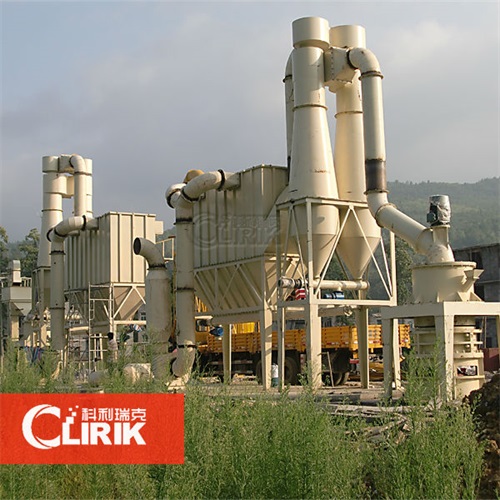 In the development process, Clirik has always been a professional manufacturer that has been praised and supported by new and old customers. It not only has rich and long-standing experience in machinery R&D and manufacturing, but also has been constantly adjusting product structure around market demand in the fierce market competition. , To increase scientific and technological research and innovation, to innovate and manufacture for the development of the industry, and constantly pursue higher-end and more advanced environmentally friendly mills.
Micro grinding mill

for grinding powder
If you need to grind 325-2500 mesh powder, Clirik recommends that customers use more professional ultra-fine mill equipment for efficient production. The fine mill equipment has comprehensive mechanical crushing performance such as roller compaction, grinding, impact, etc., the crushing ratio of the equipment is large, the energy utilization rate is high, and it is equipped with a pulse dust collector, which can achieve 99% efficiency of dust collection and more uniform powder fineness Fine, good particle shape, excellent particle shape, attracting attention and love. Let's take a look at the following technical advantages and features.
Clirik mine mill equipment-HGM

micro grinding mill
*Weight*: 17.5-70t
*Production capacity*: 1-22t/h
*Finished product size*: 5-45μm
*Application areas*: Widely used in production and life fields such as papermaking, coatings, plastics, rubber, inks, pigments, building materials, medicine, food, etc.
*Practical materials*: It has high-yield and efficient grinding ability for various non-metallic mineral materials with Mohs hardness below 7 and humidity within 6%, such as talc, calcite, calcium carbonate, dolomite, potash feldspar, and bentonite , Kaolin, graphite, carbon and other non-minerals have good grinding effect.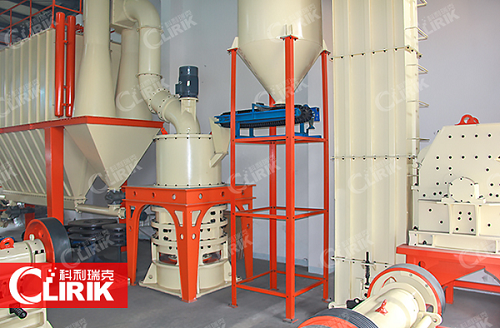 Introduction of superfine grinding process
As a manufacturer of fine pulverizer equipment, Clirik's ultrafine pulverizer equipment has a more scientific process, which mainly includes several steps such as crushing, grinding, grading, and powder collection.
Crushing: The material is crushed into materials smaller than 10mm by the jaw crusher;
Grinding: The material enters the cavity of the main machine for grinding. The material passes through the gap between the grinding roller and the grinding ring, and the grinding and grinding effect is achieved due to the rolling of the grinding roller.
Classification: The crushed powder falls on the chassis due to gravity, and is blown to the classifier above the main engine for classification under the airflow of the blower.
Powder collection: Those who are too coarse will still fall into the main engine for regrind, those who meet the specifications will flow into the pulse dust collector with the wind, and the finished product will be discharged through the discharge valve after collection.
For grinding calcium carbonate mineral powder, welcome to visit and inspect the
calcium carbonate grinding mill
manufacturer Clirik at any time, and learn about the Raymond mill for coarse powder, the superfine mill for fine powder, and the vertical mill and superfine mill to achieve large-scale production increase. Details of many equipment such as vertical mills.
If you want to know the micro grinding mill price or have any questions about micro grinding mill, please do not hesitate to contact us.
Phone: 008613917147829/0086-21-20236178
E-mail: info@clirik.com
Address: No.19 Fuqing Rd, Pudong New Area, Shanghai201201,China.