600 mesh gypsum roller mill price and milling technology introduction
Grinding gypsum ore, professional gypsum roller mill can increase production and reduce consumption, creating value. Grinding gypsum ore powder of 600 mesh, environmental protection equipment. The micro powder grinding mill is a professional pulverizer. This is a custom-made ore powder processing equipment by Clirik. It can grind 600-1250 mesh powder and is therefore an ideal gypsum ore powder processing equipment. Clirik tailor-made
gypsum roller mill
price and selection plan, advanced milling technology and high efficiency.
Can

Micro Mowder Grinding Mill

Grind Gypsum Ore?
The answer is yes, and the fineness of the mill can be adjusted between 600-1250 mesh. The new micro powder grinding mill equipment breaks through the disadvantages of traditional mills and covers a number of patented technologies and various performance indicators. Both have been greatly improved, suitable for grinding various non-metallic ore processing with Mohs hardness below 7 and humidity within 6%.
Applicable non-metal ore for micro powder grinding mill include talc ore, gypsum ore, dolomite ore, barite ore, limestone ore, etc. These non-metallic ore can use micro powder grinding mill to achieve high efficiency grinding and processing . Through the following set of data, let's take a look at the equipment performance of the micro powder grinding mill.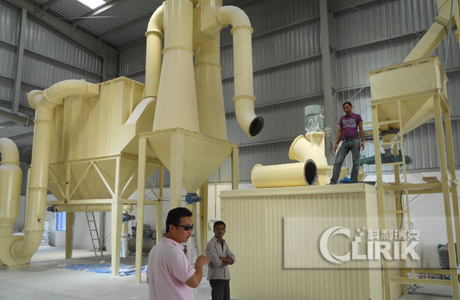 Clirik new environmental protection mill-

HGM micro powder grinding mill
[Grinding ring diameter]: 1000-1700mm
[Complete power]: 555-1732KW
[Production capacity]: 3-90t / h
[Finished product size]: 0.038-0.18mm
[Scope of application]: This mill covers a number of patented technologies. It is a technological innovation based on the R-type mill. It is widely used in electric power, metallurgy, cement, chemicals, building materials, coatings, papermaking, rubber, medicine. , Food and other production and living areas.
[Performance advantage]: The mill is a replacement of the traditional mill. Wide use, simple operation, convenient maintenance, stable performance, high cost performance, output is 30% -40% higher than traditional Raymond mill, it is economical and practical milling equipment.
[Applicable materials]: For various non-metallic mineral materials with Mohs hardness below 7 and humidity within 6%, it has high production and efficient grinding ability, such as talc, calcite, calcium carbonate, dolomite, potassium feldspar, bentonite , Kaolin, graphite, carbon, fluorite, brucite and other grinding effects are good.
Introduction of
micro powder grinding mill
The
micro powder grinding mill
is a grinding equipment with reliable processing performance. The entire equipment system is mainly composed of a host, a feeder, a classifier, a blower, a pipeline device, a storage hopper, an electronic control system, and a collection system. Recognition and customer support. Its milling process is divided into four stages: crushing, milling, classification and powder collection.
Grinding gypsum ore, Clirik's gypsum roller mill is the ideal pulverizer. Among them, the ultra-fine pulverizer can grind 600-1250 mesh gypsum ore powder, and the price of gypsum roller mill is scientifically formulated and tailor-made. The configuration plan, the milling process of the mill is scientific, it is the ideal milling equipment, please call for more details, contact information: 021-20236178, 13917147829.